Type 133 Load Cell Amplifier
Type 133 Load Cell Amplifier
Bipolar Output Load Cell Amplifier
The Type 133 Load Cell Amplifier enables a customer to be able to configure and amplify analogue outputs to several combinations based input ranges and on Current or Voltage outputs.
Our 133 Strain gauge load cell amplifier gives the ability to easily and simply configure analogue outputs to your Current (mA) or Voltage (VDC) output requirement.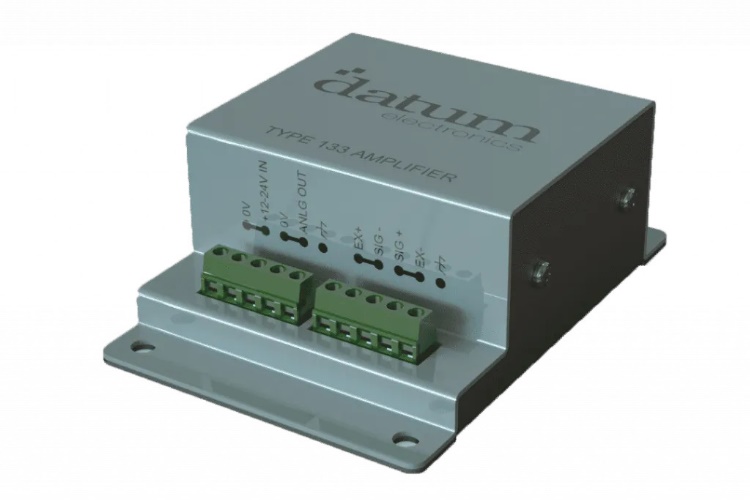 Type 133 Bipolar Output Load Cell Amplifier
Bridge Resistance: 120–2,000 Ω
Load Cell Connection: 4 wire
Power Supply: 12V–24V
Operating Temperature: –20ºC to 50ºC
Bridge Excitation Voltage: 8.0 V DC
Linearity: 1:4,000
Bipolar Output
RoHS compliant
Firstly, the Type 133 Load Cell Amplifier's basic function is to amplify the signal from any load cell with full bridge connection.
Amplifying this signal allows the user to use the data from the load cell in a more efficient and productive way.
Secondly, the amplifier is housed in an ABS enclosure allowing easy installation or mounting to a suitable surface with a single screw.
PRODUCT FULL SCALE INPUT RANGE
Type 133 (A) 0.25mV/V – 0.85mV/V
Type (B) 0.65mV/V – 1.65mV/V
Type (C) 1.5mV/V – 2.5mV/V
Type (D) 2.25mV/V – 3.25mV/V
PRODUCT OUTPUT TYPE
4-20 mA
12mA +/-8 mA
0-10 V
5V +/- 5V
This means you can have one amplifier with multiple configurations available for you enabling changes and setups to be achieved, quickly, simply and effectively.